4 Days Queen Elizabeth & Wildlife Safari
This 4 Days Queen Elizabeth & Wildlife Safari : takes you to Queen Elizabeth National Park, best known for its tree-climbing lions and home to buffaloes, the Uganda kobs, topis, elephants, waterbucks, hyenas, crocodiles, hippos and different antelope species, in addition to ten primate species including chimpanzees, baboons and various monkeys. You will then continue to Kibale Forest National Park, home to the most diverse number of primates in East Africa among which are chimpanzees, Grey-cheeked Mangabeys, Red-Colobus, Phoestes, Red-tailed monkeys and the Blue monkeys. You will thereafter take a nature walk in Bigodi swamp for bird watching.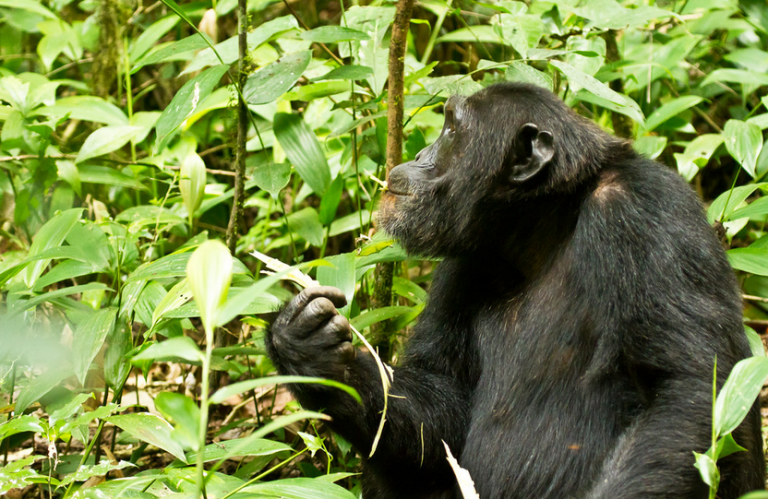 Activities
Boat Cruise

Chimpanzee tracking

Nature walk

Bird watching

Game drive
Tour Highlights
Day 1: Transfer to Queen Elizabeth National Park – Boat Cruise
Day 2: Game drive -Transfer to Kibale National Park 
Day 3: Bigodi Bird viewing – Chimpanzee Tracking
Day 4: Nature walk – Depart for Kampala
Detailed Itinerary
Day 1: Transfer to Queen Elizabeth National Park-Kazinga Launch Cruise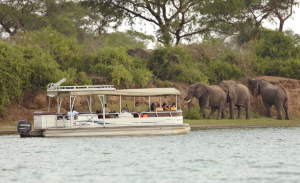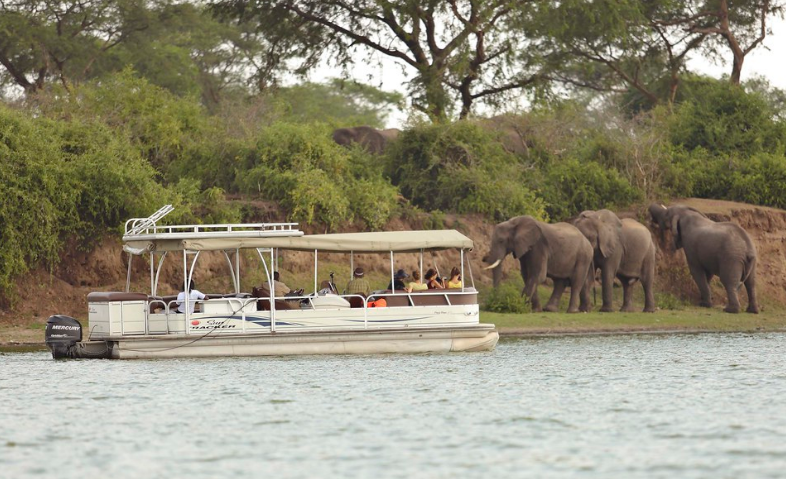 Approximate Travel time 7 hours.
You will drive to Queen Elizabeth National Park after your breakfast, going through the undulating countryside. After lunch, you will revel in a 2-hour boat cruise of the renowned Kazinga Channel, a natural water channel that connects Lake George and Lake Edward. During the boat cruise, you will see the largest school of hippos in Uganda, crocodiles and some other animals.  You will also behold a large number of birds, thanks to the park's more than 550 bird species. Don't leave your camera behind as you go for this exciting activity. After an eventful day, you will retire to your lodging in the evening.
Accommodation Options
Enganzi Lodge (Basic)
Kyambura Game Lodge (Mid-range)
Mweya Safari Lodge (Luxury)
Day 2: Game Drive-Transfer to Kibale National Park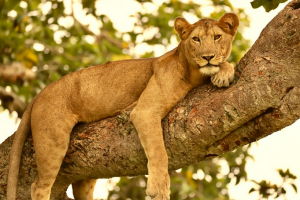 Approximate Travel Time: 3 Hours
Right after early-morning breakfast, you will go for a game drive to see some of the early risers within the park. Some of the animals you will encounter include Defassa, Bush bucks, Cape Buffaloes, Giant Forest Hogs, Lions, Topis, Leopards, Elephants, Waterbucks and Uganda Kobs, among others. You will have lunch, and then be driven to Kibale Forest National Park, "The Primate Capital of the World". Kibale Forest National Park contains one of the loveliest and most varied tracts of tropical forest in Uganda. Forest cover, interspersed with patches of grassland and swamp, dominates the northern and central parts of the park on an elevated plateau and famously known for chimpanzee tracking. The park is home to a total of 70 mammal species, most famously 13 species of primate including the chimpanzee. The park also contains over 375 species of birds, adjoins Queen Elizabeth National Park to the South to create a 180km-long corridor for wildlife between Ishasha the remote southern sector of Queen Elizabeth National Park and Sebitoli in the North of Kibale Forest National Park. The Kibale-Fort Portal area is one of Uganda's most rewarding destinations to explore. The park lies close to the tranquil Ndali-Kasenda crater area and within half a day's drive of the Queen Elizabeth National Park, Rwenzori Mountain National Park and Semuliki National Park as well as the Toro-Semuliki Wildlife Reserve.
Accommodation Options
Chimps Nest (Basic)
Primates Lodge (Mid-range)
Ndali Lodge (Luxury)
Day 3: Bigodi Bird viewing-Chimpanzee Tracking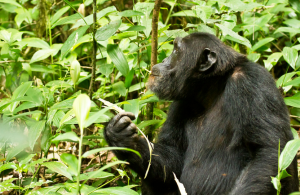 On day three you will have breakfast early in the morning and then head for briefing by the park warden. After briefing, the team will set out on the amazing expedition to track chimpanzees. The expedition will start at 8.00 a.m. or thereabouts. While in the forest, you will encounter primates such as the Blue tailed monkeys, Grey cheeked Mangabeys, Red-Colobus, Red-tailed monkeys as well as L'hoestes, plus several birds, insects and colorful butterflies. After lunch, you will head out to explore the Bigodi swamp an eco-tourism site. At Bigodi swamp, you will see a number of rare fauna and flora species, including the largest antelope species in the world, the Statunga. In addition, you'll observe various bird species including: the Narina Trogon, Great blue Turacco, little Bulbul, Rwenzori Turaco as well as the.
Accommodation Options
Chimps Nest (Basic)
Primates Lodge (Mid-range)
Ndali Lodge (Luxury)
Day 4: Nature Walk-Depart for Kampala
Following a nice Breakfast, you will head out for a guided nature walk in the thick forest to observe a variety of rare animals. You will have lunch along the way before finally arriving in Kampala. Once in Kampala you will be transferred to the airport depending on the time of your departure flight. That will mark the end of our 4-day safari.
                                                                    End of Safari Tour
Includes
Park entry fees

Airport transfer on the day the safari ends

Accommodation as indicated in the itinerary on a full-board basis,

A private Four wheel Drive (4WD) vehicle for you ground transportation

Game Drives

A two Hour Launch Cruise on Kazinga Channel

Full-time English speaking Driver-Guide

Chimpanzee tracking permit
Excludes
Activities listed as optional in the itinerary

Flight tickets and related taxes

Visas and other relevant travel documentation

Travel as well as medical insurance

Addition Excursions indicated as optional

Additional luggage charges,

Tips and Laundry, tips

Beverages other than mineral water offered in the vehicle and served during your meals

Any personal expenditure like on phone calls

Items of personal natures such as toiletries
SAFARI TRANSPORT
Standard 4X4 Safari Vehicles
Our standard mode of transport is by road and we use 4×4 Safari vehicles. Each Safari vehicle comes with a professionally trained driver/guide with fuel for the whole safari. We also have very comfortable super customs which can carry up 6 people with their luggage also have small vehicles like Alphads, Harrier and much more that can carry 4-5 people.
Optional activities
Chimpanzee Habituation
The full-day Chimpanzee Habituation Experience (CHEX) works with a chimp community which is undergoing habituation. Early visitors can watch chimps leaving their overnight nests between 6:00-6:30am before feeding, copulating, hunting, breastfeeding, resting, patrolling and displaying until it is time to build new nests around 7pm.
Birding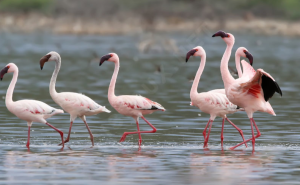 Bird watching tours start at 7am at Kanyanchu and you are advised to book in advance. Rare species include the Papyrus Gonolek, White-winged Warbler, White-collared Oliveback and Papyrus Canary. Bigodi Wetland Sanctuary located just outside the park is home to 138 bird species which may be seen during guided walks along the boardwalk trail and viewing platforms. These could include the White-spotted Flufftail, Yellow-spotted Barbet, Hairy-breasted Barbet, Yellow-billed Barbet, Western Nicator, Grey-winged Robin-chat, White-tailed Ant-thrush, Brown-backed Scrub-robin, Black-and-white Shrike-flycatcher, Brown-throated Wattle-eye, Superb Sunbird, Brown-crowned Tchagra, Bocage's Bush-shrike, Black Bishop, White-breasted Negrofinch and Black-crowned Waxbill among others.
Hiking/Nature Walks
When chimpanzees and other forest residents rest up at dusk, a nighttime shift of rarely seen creatures becomes active. Night walks through the darkened forest, powerful torches are used to seek nocturnal creatures such as the potto, bush baby, nightjar, cricket and tree hyrax, with its chilling shriek, as well as the occasional civet or serval cat. Night walks leave the camp at 7.30pm and last between one and a half- two hours.
Cultural Encounters
During the nature walk, a local guide will take you along the boardwalk through the Magombe swamp wetlands. You are likely to see wildlife at close-hand, including several of the 200 species of birds, eight varieties of primates and numerous butterflies, along with unusual swamp vegetation. The daily life of the Batooro can be discovered during the village walks. The tour stops by the village's primary school, church, and traditional healer. You will learn about the role of women in the village and traditional ceremonies, and the history of Bigodi is told through the story of the "Village of Two Tribes", describing when the indigenous Batooro were joined by migrating Bakiga from southwestern Uganda in the 1950s. Income from this activity is invested in education, health, sanitation and improving the livelihood of local residents. It is also used to help raise awareness of the value of biodiversity through music, dance, and drama performances at local schools. As the sun sets, you will be taken to check into your accommodation for dinner and the overnight rest.
Lion Tracking
Lion tracking involves learning much more about the habits of the king of the wild in natural plains of Kasenyi with in the national park. Lion tracking is one of the most interesting experimental tourism activities in Uganda. The coast of a lion permit authorized by Uganda wildlife authority is US$50 for international tourists and UGX 100,000 for the members of the East African Community. This charge is inclusive of the park entrance fee to Queen Elizabeth National Park.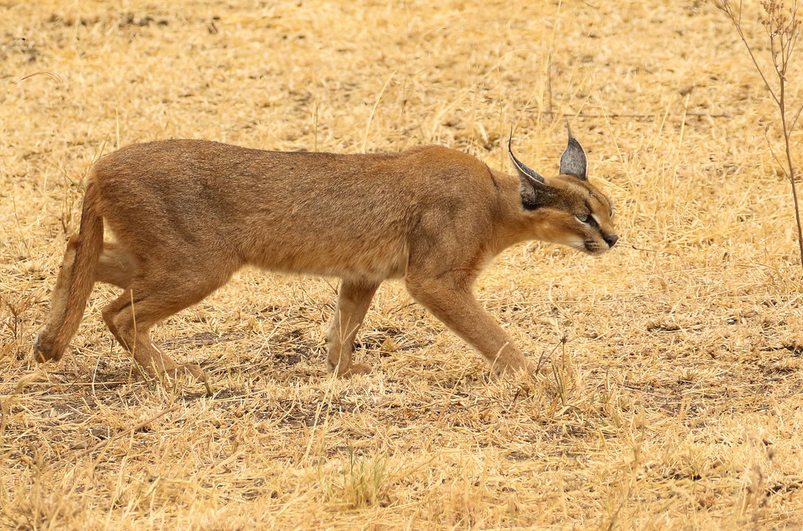 The Caracal (Felis caracal) The Caracal (Felis caracal): is a medium-sized wild cat that can run up to 50...