Nyungwe Forest National Park was established as a National Park in 2004. This happened at a time when Rwanda was on the list of top ten tourist destinations according to lonely Planet ratings. Nyungwe Forest National Park is found in the South Western part of Rwanda. It is bordered by the Rwanda-Burundi border in the South. Lake Kivu and the Democratic Republic of Congo lie on the west side of the park. It covers an area about 1020 sq.km and has an elevation of 1600-2950m above sea level. This vast un spoilt rain forest receives an annual 2000mm of rain. It is an important water catchment for Rwanda and contains many natural resources that are quite useful to the Rwandan people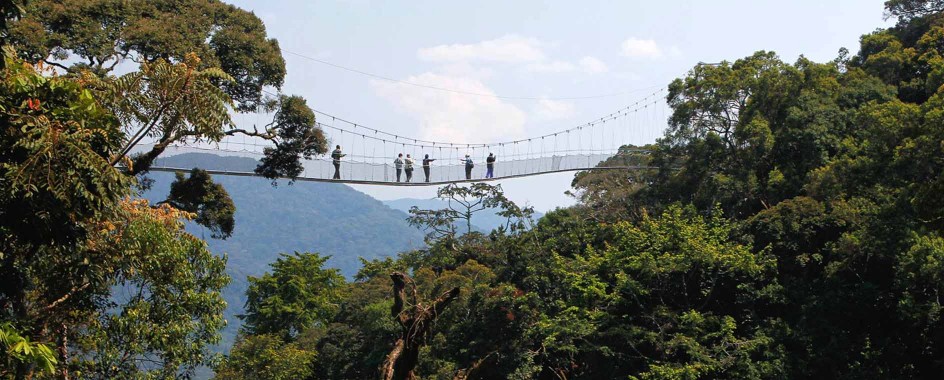 Things to do in Nyungwe Forest National Park
Nyungwe Forest National park is also a hiker's paradise with 13 hiking trails and over 130 kilometers through the forest.
Exploring the rainforest and discovering the various habitats within can take visitors a period of one week hiking through the different trail. Reserved hikes can take a period of one to eight hours in length and most can also be completed in case you are in reasonable physical shape.
With Gorilla trekking in the Volcanoes national park, Nyungwe National Park  is another place where you can do chimpanzee trekking from. The trekking starts early in the morning and you are advised to carry some liters of water, long trousers, long sleeved shirt, rain courts, hiking boots and a hat. Chimpanzee trekking requires a maximum of 8 people in a group set out to track. The chimpanzees are used to human beings since they are nurtured into that.
Nyungwe Forest National Park has over 13 primate species with the unconfirmed sightings of the golden monkeys. Large groups of about 300 colobus monkeys are likely to be seen along the trail. These might include; L'Hoest's monkey, the Owl faced monkeys, Mona monkey and the blue monkeys. The forest is also a primate country and you can also trek the chimps, the gray cheeked and the colobus monkeys in the ancient forest.
Forest canopy walk & hike
This canopy walk is the first three top forest canopy walk in East Africa and the third in Africa. This canopy walk is a must-do activity while in Rwanda, and in case you are to trek the mountain gorillas, you can include some days for this activity on your travel itinerary. The canopy walk is 50 meters above the ground and this can also be the dizzying heights for some people, expect to see some monkeys move around in the tress tops, the birds flying above and below you and an amazing view of huge Nyungwe forest.
With over 300 bird species and 27 endemics found in the forests of the Albertine rift. Different species may include; Grauer's Warbler, Kamiranzovu, the large blue Turaco and many more. Nyungwe is also birder's paradise and will have a chance to see many other bird species and primates during birding walks with in the forest.
Accommodation in Nyungwe Forest National Park 
There is a wide range of accommodations found inside and just around the park for all kind of tourists depending on their one's budget. You can book your accommodation through our company and early bookings are advised.
Nyungwe Forest Lodge: This lodge is situated in a tea plantation close to Nyungwe forest. It is 5 star and luxury lodge with some of the best facilities and good services in Rwanda. The lodge overlooks the forest canopy so you are guaranteed some scenic views of the area. It has comfortable luxury rooms, with a Jacuzzi board basis and full boards.
Gisakura Guest House: Gisakura is a comfortable accommodation for people working with smaller budgets. It is found about 2 km from the park and close to the Gisakura tea estate along the road to Rusizi. The guest house offers a chance to visit the chimpanzees, bird watching and hiking along different trails.
Nyungwe Top View Hotel: Nyungwe Top View Hotel offers good accommodation close to the park. The accommodation here is in red brick cottages furnished with only necessary furniture. The hotel is connected to electric power grid, and the power is always on, so there is no need of worrying about the dark nights.
How to get to Nyungwe Forest  
Nyungwe forest National Park is located in South Western Rwanda close to Lake Kivu and Democratic Republic of Congo, with Burundi border in the South. It is located near Cyangungu town, about 225 km and a 4-5-hour drive from Kigali. You can either drive to the park from Kigali, or fly there. You can't walk there though, that would take an extraordinary amount of drive and time.