Aberdare National Park
Aberdare National Park : is located about 100 km north of Nairobi and stretches over a wide variety of terrain at altitudes from 2,000 metres (6,600 ft) to 4,000 metres (13,000 ft). Established in May 1950, the Aberdare National Park covers an area of 766 square kilometers and forms part of the Aberdare Mountain Range. The park contains a wide range of landscapes from mountain peaks that rise to 4,000 metres (13,000 ft) above sea level, to their deep, v-shaped valleys intersected by streams, rivers, and waterfalls. Moorland, bamboo forests and rainforests are found at lower altitudes. One of the main features of Aberdare National Park is that it is home to the second largest population of black rhinos. The park provides a habitat for elephants, black rhinos, leopards, spotted hyenas, olive baboons, black and white colobus monkeys, buffalos, warthogs and bushbucks among others.  Aberdare National Park is as famous for its lovely waterfalls as its rare species of rhino, black leopard, and bongo antelope. The regular rains keep the park green year round and the temperatures cool, perfect for hiking. Visitors on safari to this national park have a chance to participate in bird watching, trout fishing, climbing adventures to the twin hills, elephant hills and Table Mountains; nocturnal wildlife viewing, view the stunning Lesatima and Kinangop peaks or walk via the moorland and pay a visit to the remarkable waterfalls and many more.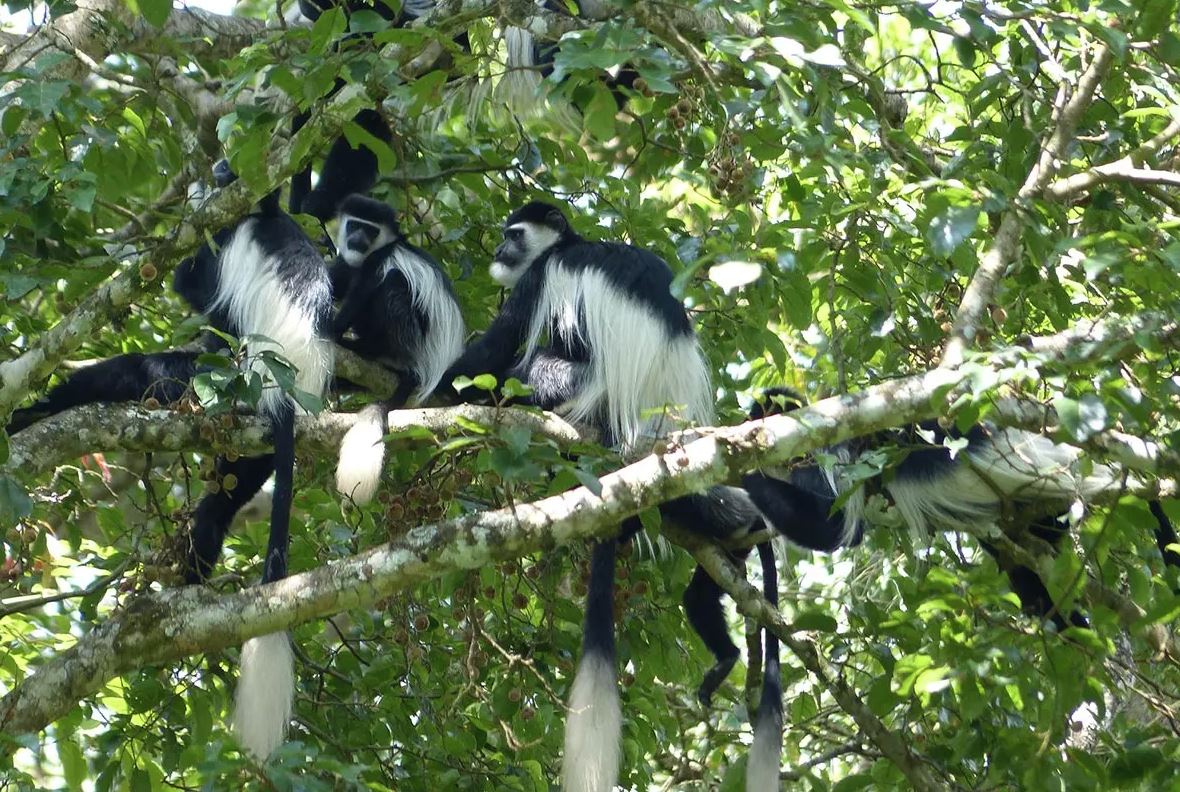 Attractions in Aberdare National Park
Game animals easily seen in the park during game viewing include; African Elephant, black rhino, leopard, spotted hyena, olive baboon, black and white colobus monkey, sykes monkey, Cape buffalo, warthog, common zebra (North Aberdare), bushbuck, and reedbuck.  Rare sightings include those of Giant Forest hog, bongo, golden cat, serval cat, African wild cat, African civet cat, blue duiker.

Very beautiful sceneries of Aberdare include magnificent waterfalls with the main ones being Karuru waterfalls which fall in three steps, 1st step 117M, 2nd step 26M and 3rd 130M, making a total of 273M, Chania waterfalls and may other smaller ones so you can walk through the moorland and visit the magnificent waterfalls.

Adding to the beauty of Aberdare are many ridges and river valleys which attract mountain scenery photographers.

Visitors can also indulge in picnics, trout fishing in the ice-cold Guru Karuru and Chania Rivers.

Bird watching is good here, with over 250 species of birds recorded in Aberdare National Park.
How to get to Aberdare National Park
By Road:The Park is readily accessible on tarmac from Nyeri and Naro Moru on the Eastern side and it's 150 Kms from Nairobi. A road crosses the park through the lower slopes up to the Moorlands to connect with another one from Naivasha on the western side. Naivasha is 87 Kms from Nairobi .The Park HQS is 15 Kms from Nyeri town, along the Nyeri – Nyahururu road.
By Air:The nearest airstrip is the Mweiga Airstrip on the opposite side from Park Hqs along Nyeri – Nyahururu road near Sasini Estate Farm.
Accommodation
The park has got a lot of lodges, camps & hotels for accommodation ranging from luxury, budget and mid-range and these are available both inside and outside the park. You can book your accommodation through our company and early bookings are advised.
Mid-range
Budget
Hague Restaurant & Guesthouse

Mark 5 Resort