Lake Mburo National park is located in Kiruhura district in the Western region of Uganda. The park is about 30 kilometers (19mi), by road, East of Mbarara, the largest city in the sub-region. This location is approximately 240 kilometers (150mi), by road, west of Kampala, Uganda's capital and largest city. The park has a variety of animals such as Zebra, Hippopotamus, Impala, Warthog, Common Eland, African buffalo, Jackal, African leopard and over 300 bird species. Lake Mburo National Park is the only park in Western Uganda where you find Burchell Zebras, the only other park where you find Zebras is Kidepo Valley National Park in northeastern Uganda.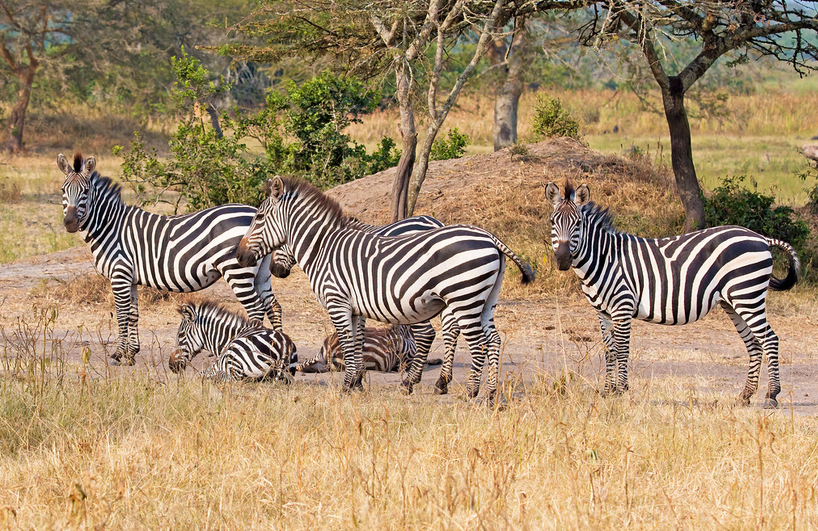 The Whispers of the Wild
What to do and see in Lake Mburo National Park

Wildlife Game Drives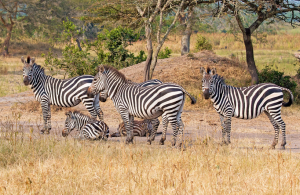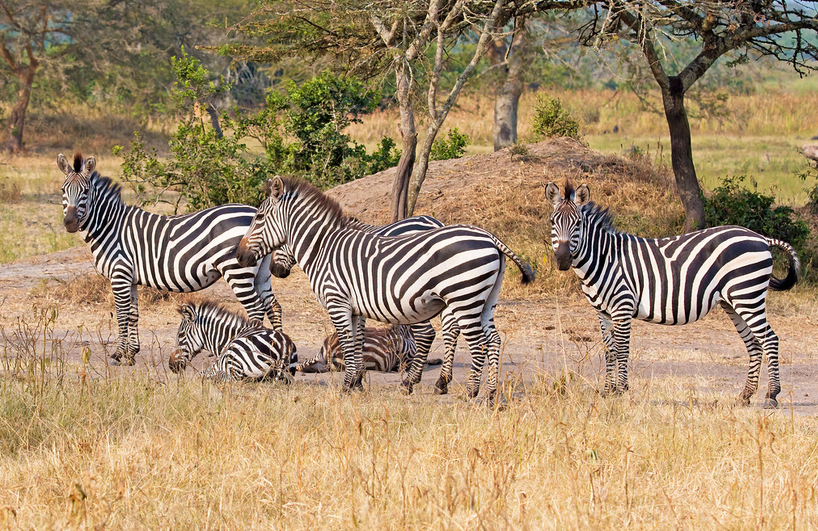 Game Drives through the Park allows you to see many animals and birds. Be sure that a Uganda Wildlife Authority Ranger is on board to point out the various species of birds and mammals you might otherwise miss. Lake Mburo National Park is the only park in Uganda with Elands, Impala Antelopes and Topis. Game drives prove to be rewarding with leopards and at time lions.
Boat Safaris
A boat ride on Lake Mburo gets you in touch with the flora and fauna of the Lake. Along the bank, you will see lots of animals coming to water especially during the dry season. There are hippos, crocodiles, buffaloes, antelopes, zebras, also 3 kinds of otters are found in the lake itself. A boat safari on Lake Mburo will allow you to see both crocodiles and hippos up close in their natural habitat and continues to be a major attraction in the park.
Birding
Lake Mburo National Park is one of the best place for birding in Uganda with over 350 species of birds that are found here. Birders will find the swampy valleys of Warukiri and Miriti, and the roadsides between Rwonyo camp and the jetty to be excellent areas for birding and one may spot the rare shoebill Stork here.
Nature Walks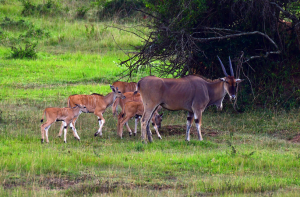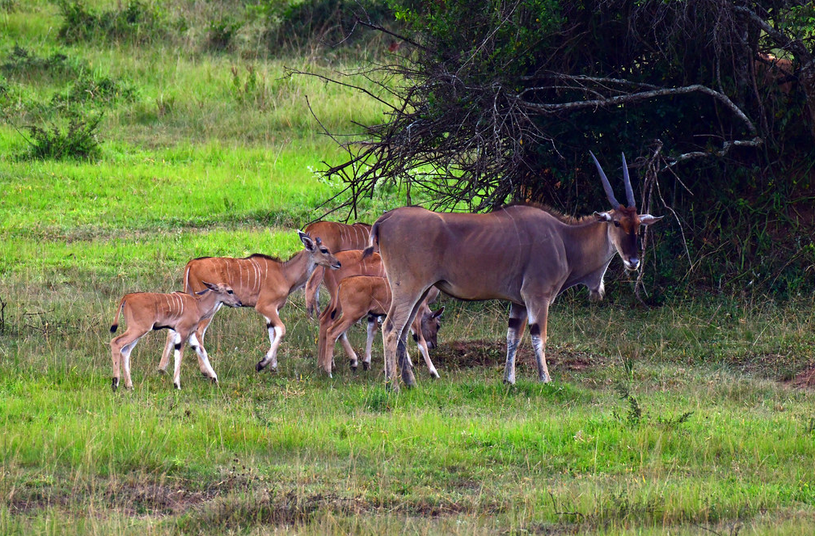 On an early morning guided walk you often encounter hyenas returning to their dens after a night of being on the prowl – at the same time you can often see hippos returning from grazing during the night and returning to Lake Mburo to keep cool during the day and protect their sensitive skin from the sun. On a nature walk you will often see Zebras, Giraffes, Eland, Topi and other antelopes, buffaloes, birds and butterflies. Take the Trail to the top of the hills and see Lake Mburo and beyond, from this vantage point you have a great view of 9 of the regional lakes found in the area.
Rubanga Forest
Rubanga Forest is especially a great place for birders and over 40 species of birds have been recorded in the forest including 5 forest specialists. Trees found in Rubanga Forest are Markhamia, Platycaluz, Acacia, Palm, Fig Trees among others. This forest provides a variety of habitats, which are great for birds thereby making it a special forest for bird watchers. There are over 40 species of birds recorded in Rubanga, 5 of which are forest "specialists". Birds found here include the Shoebill Stork, harrier hawk, green pigeon, narina trogon, Grey-backed cameroptera and double-toothed barbet.
Salt Lick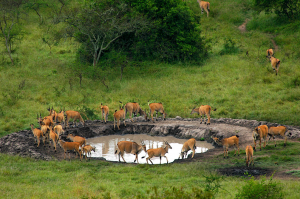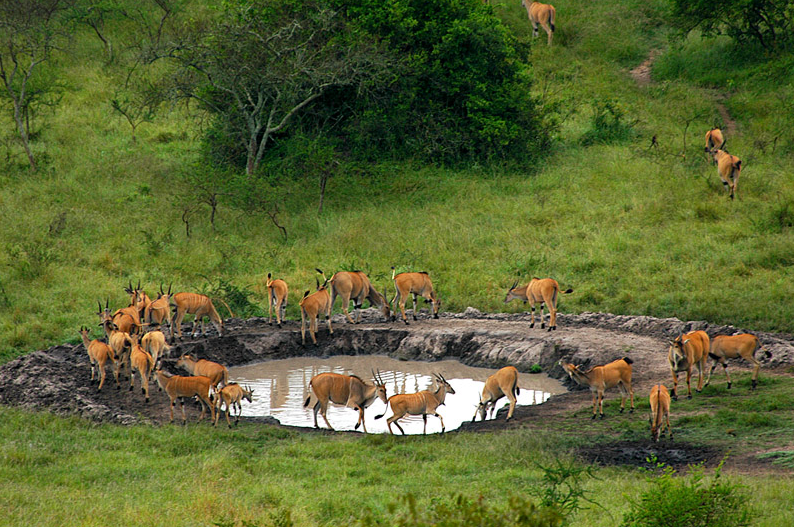 You can take a guided walk with an armed ranger to the salt lick and observe animals licking the salty soil found there. Uganda Wildlife Authority has erected wooden platform hide away where visitors can stand and observe the animals below them without the animals being aware.
How to get to Lake Mburo National Park / Access
The park is accessed mainly by road which is 228 kilometers from Kampala and the drive takes about 3-4 hours depending on the road conditions and whether or not you make some stopovers along the way which might include a visit to the Drum makers at Mpambire trading centre and the Equator at Kayabwe.
Driving from Kampala or Mbarara, the park is accessed by 2 Gates; from Mbarara, the first gate is Sanga gate accessed through Sanga trading centre while the next one is Nshara gate. It is about 2 kilometers from each of the gates to arrive Rwonyo where the park headquarters are found. There are currently no scheduled domestic flights to this park but it is possible to arrange a private charter through different domestic flight operators
Where to stay / Accommodation in Lake Mburo National Park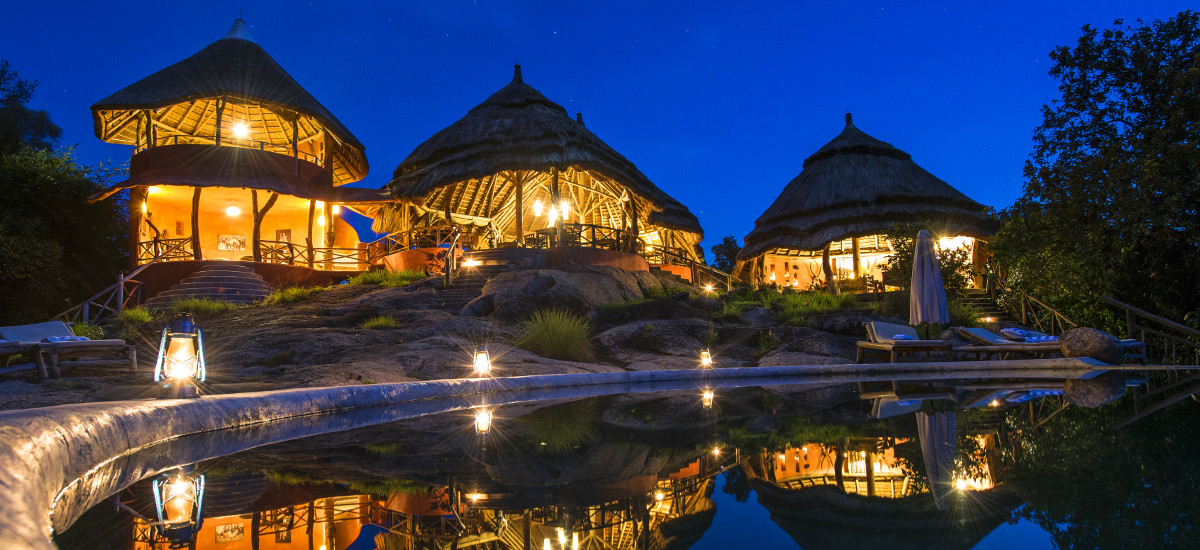 There are quite a number of accommodation facilities found around and within the park that can cater for all types of holidaymakers depending on one's budget. You can book your accommodation through our company and early bookings are advised. 
Mantana Tented Camp: It is a mid-range accommodation establishment where you can spend on overnight. Comprised of nine rooms which are well spaced perched in open woodland close to a hill top approximately 4km from the shores of Lake Mburo.
Mihingo lodge: It is one of the up market safari lodges in Uganda. Perched on the ancient Mihingo rock at the boundaries of Lake Mburo National Park, Mihingo safari lodge offers luxury accommodation to Uganda safari undertakers. The counts of 10 rooms are set on wooden platforms with stilts and are covered with thatched roof.
Arcadia cottages: It provides comfortable cottages in the heart of the park near the lake shore, with newly reduced rates dropping it into the mid-range category. The restaurant has a deck with a view of the lake.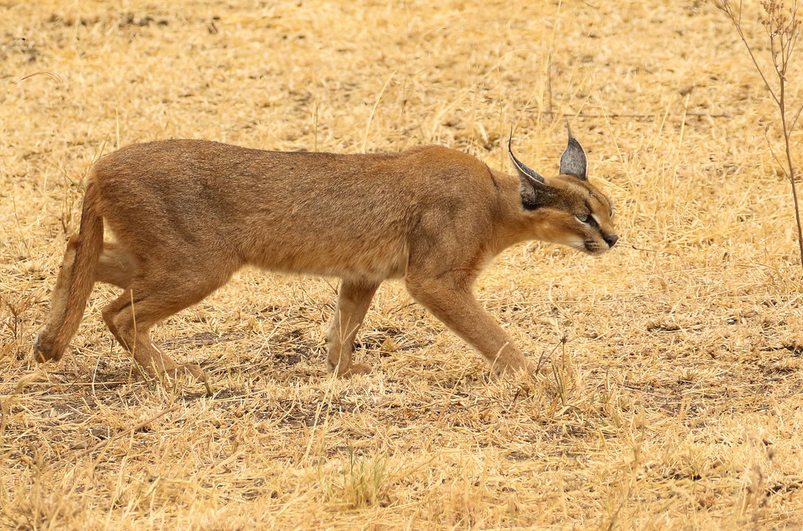 The Caracal (Felis caracal) The Caracal (Felis caracal): is a medium-sized wild cat that can run up to 50...