Samburu National park
Samburu National Park : Samburu, Shaba & Buffalo Springs are 3 Reserves bordering one another in the dry landscape of North Central Kenya. The wildlife congregates around the Ewaso Ngiro River which runs through the Reserves. Besides the wildlife (elephant, giraffe, leopard, zebra, blue-legged ostriches), a highlight of any visit is to meet the Samburu people a nomad paranilotic tribe closely related to a Maasai.  Shaba is less visited of the three and also the largest while Samburu National reserve and Buffalo springs are similar in surface area. Samburu and Buffalo Springs are adjacent reserves, separated only by a river that can be easily crossed through a bridge some 3 km upstream Samburu Game Lodge. But it turns out that the river is also the border between two different counties, Samburu and Isiolo. Therefore, if you wish to enjoy the full ecosystem from both river margins, you have to pay double, so most visitors just remain at the side of the river where their lodge is located.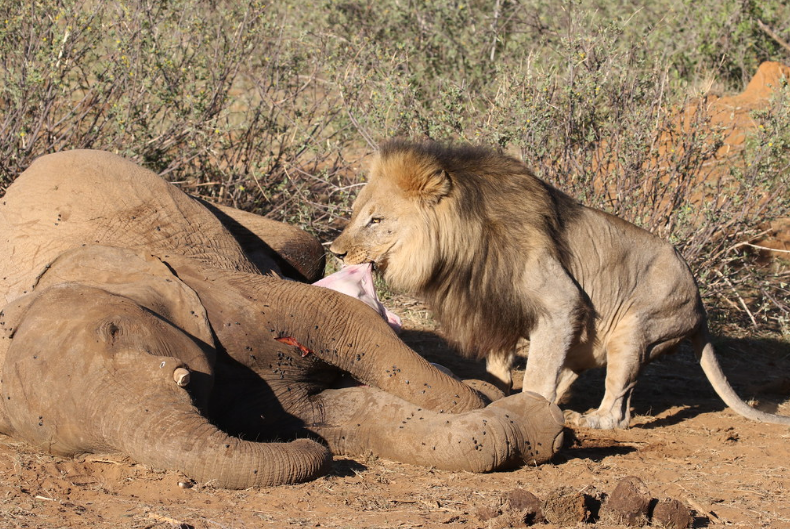 Activities
Bird watching
These parks hosts different bird species and these include; the yellow billed hornbills, sand grouse, Taita falcons, Grey headed king fishers, somali ostriches, pygmy falcons, secretary birds, yellow billed ox peckers, doves, black-capped social weaver and much more.
Nature walks
This is done by Samburu armed guide who will show you how to interpret animals tracks and also show you a lot of plant species normally used for their traditional medicine. Guided nature walks can be done at the banks of Ewaso Ng'iro river where you experience a lot of nature and wildlife.
Game viewing
These are usually morning, afternoon and full day game drives. There are various species to be seen in these parks and these include; spotted hyena, impalas, warthogs, African elephants, hippos, waterbucks, cheetahs, fringe eared Oryx, Zebras, Lion, Grevy's zebras among others.
Swimming
Tourists can engage in swimming at Ewaso Ng'iro river but normally advised to carry your own swimming gears and also while here expect different fish species to be caught.
Cultural Experience
You can enjoy cultural experience from the local Samburu community living around the park with their unique nomadic life style. Entertainment is most enjoyed in the evenings with local dances from the traditional dancing groups. There are also various craft shops where you can buy some souvenirs to take back home for remembrance.
How to get there
4-5 hour drive from Nairobi city
1hr 20mins using and aircraft
The park has got a lot of lodges, camps & hotels for accommodation ranging from luxury, budget and mid-range and these are available both inside and outside the park. You can book your accommodation through our company and early bookings are advised.
Luxury
Mid-range
Samburu Riverside Tented Camp
Budget