This 1 Day Entebbe Adventure : takes you the prettiest and most charming town of the lake as described In 1913 by Sir Frederick Treves who arrived at Entebbe fresh from the ports of Mwanza and Kisumu. Entebbe was the capital of Uganda during the colonial era and it derives its name from a Luganda phrase "Entebbe za mugala" literally meaning the headquarters "seat" it was named because it was the place where the Banda chief sat to adjudicate legal cases. Entebbe is best known to Europeans as the home of Entebbe International Airport, the main International Airport of Uganda which was officially opened on 10th November 1951. It was the same Airport the Queen of England Elizabeth II departed Africa to return to England in 1952 when she learnt of her father's death and that she had become Queen. Entebbe city is one of the tourist attractions in Uganda, the Uganda Wildlife Education Centre protects native animals, close by is the Ngamba Island Chimpanzee Sanctuary which protects orphaned chimps, the attractive Beaches and much more.
Activities
Birding

Chimpanzee tracking

Swimming at the Equator

Boat cruising
Highlights
Ngamba Island

Uganda Wildlife Education Centre

Uganda reptile village

Beaches
Detailed Itinerary
Ngamba Island Chimp Sanctuary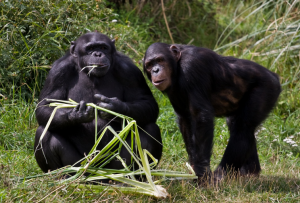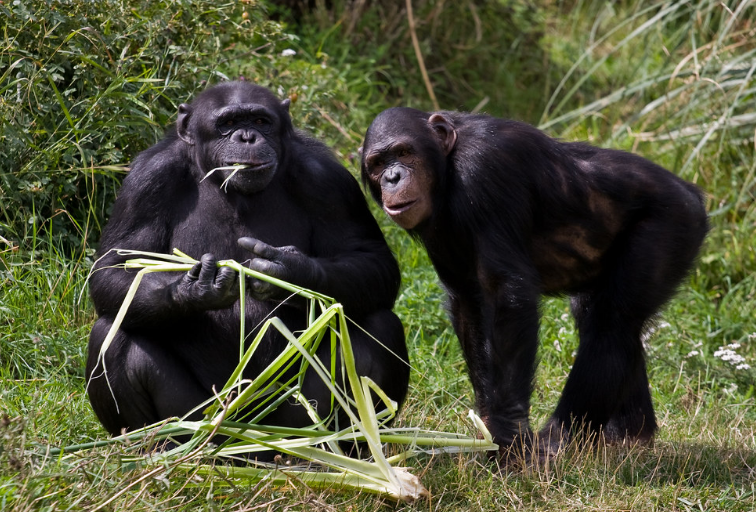 After morning breakfast, we shall drive to Entebbe and our first activity will be cruising to Ngamba Island which is surrounded by the fresh waters of Lake Victoria and is a home of 49 chimpanzees, 20 male and 29 are female. Amongst these 46 are orphaned and the 3 were luckily born on this Island. You will have a chance to clearly observe and feed these playful apes. Listening to the sound and observing how the chimpanzees call out for food, it is quite amazing an experience! If you are keen enough, you will notice that the boat engine will use more energy in order to sail past the Equator line crossing. You will also see the Chimpanzee clinic and they will also explain to you the different foods given to the chimps. You will have lunch then proceed to Uganda Wildlife Education Centre.
Uganda Wildlife Education Centre
This is the center where wildlife education is combined with leisure and here you will not only observe the exciting indigenous species, but also will have a comprehensive interactive interpretation and briefings on them. Over 120 bird species can be watched ranging from the famous African fish eagle, over the Great Blue Turaco, Giant Kingfisher and even the smallest sun birds. It is a fun and exciting place to see and learn about the animals of Uganda and the ecosystems for example, lions, elephants, giraffes, rhinos, reptiles, bird species and much more.
Beaches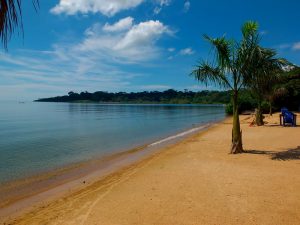 Entebbe is the presence of many beaches where one can go and have a wonderful experience such as Imperial Resort Beach where you will find many exotic trees, plants and rare birds and if you love photography then this is the best spot that you should not miss out .Here you will also enjoy mystical sunsets, sunbathing or water sport activities. You will also have a tour in the caves along the beach and these have been made into creative bars due to their unique features.  More than 80% of the beaches in Uganda are situated in Entebbe.
Uganda Reptile Village
Here will come across 50 reptiles with 20 different species on display from cobras, boomslangs, skinks, monitor lizards, tortoises and the most poisonous snakes in Africa the Gaboon Viper. You will enjoy the thrilling experience of watching these slow but fun animals when they are feeding on their vegetables. You will also enjoy adventurous activities like sport fishing as well as canoe cruising in the man-made river stream which is three kilometers.
   End of Tour
Included
A professional driver/guide

Transportation including fuel

All activities (included in the itinerary)

All Taxes/VAT

Round Atrip transfer

Bottled drinking water

Entry fees
Excluded
International flights

Personal items

Meals

Additional accommodation before and at the end of the tour

Tips
Other optional activities in Entebbe
Visit the craft markets
Entebbe is the only city in Uganda with the largest craft market centre.  Here you can choose to buy different souvenirs to take back home like bags, paintings, African wear, Sandals, mats etc.
Visit to the Botanical Gardens 
The gardens is an attractively laid-out mix of indigenous forest, cultivation and horticulture, and a highly attractive destination to birdwatchers. Botanical garden offers an excellent introduction to Uganda's birds such as slender-billed weaver, red-chested sunbird, gonolek, grey-capped warbler, great blue turaco and much more. Vervet and black and white colobus monkeys and also be sighted here.
Mabamba Swamp
The Swamp is one of the best places in Uganda to spot the highly sought-after shoebill in its natural habitat. A narrow water channel extends inside the swamp allowing for birders to visit the inside by boat and half day trips can be organized to visit this swamp.
Entebbe Golf Club
The open expanse of the 18-hole golf course sloping towards Lake Victoria is Entebbe's most distinctive feature on the drive towards the airport. This golf course remains green throughout the year because of the cool weather from the lake and good rains throughout the year. Golfers should try for early morning or late afternoon starts to avoid the heat of the day.
Lutembe Bay
This small wetland on the eastern side of the Kampala-Entebbe Road is notable for seasonal Palaearctic over 26 species and Afro-tropical over 16 migrants. Over 109 water bird species have been recorded here and these include squacco heron, shoebill, papyrus gonolex, African skimmer and more. Over 24 regionally threatened species have also been recorded here such as slender billed gull, greater cormorant, winged black terns, northern brown-throated weaver and much more.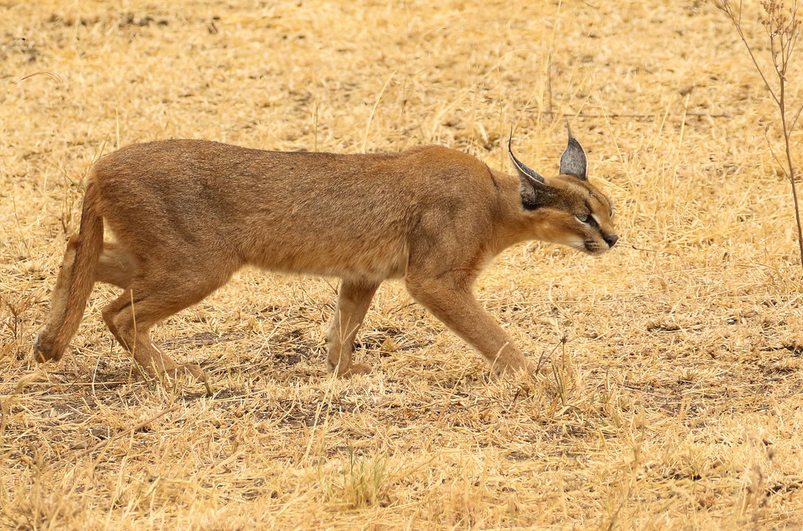 The Caracal (Felis caracal) The Caracal (Felis caracal): is a medium-sized wild cat that can run up to 50...