Uganda's big five game Adventure
Uganda's big five game Adventure : When it comes to African wilderness safari, Uganda is absolutely one of a must to visited destination. Uganda is popular for its big five wilderness safaris in Africa as well as other incredible species that have positioned this country as one of the best safari destinations in Africa. The word big five derived from the big game hunters and denotes the five most difficult wildlife species to hunt in Africa. If there are lucky countries in the world, then Uganda is incredibly endowed! It offers refuge to the big mammal species for visitors on safari to catch a glimpse. Moat of these amazing wild creatures are widely scattered around Uganda's most magnificent savannah protected areas, mostly in Murchison falls national park, Queen Elizabeth national park, Kidepo Valley national park, Lake Mburo national park and many more. An African safari is generally quite high on the bucket list of any traveler in Uganda and there is no shortage of options or availability. Given that these formidable five are constantly in the spot light, here are the amazing details about each of Africa's Big-five stars of Africa.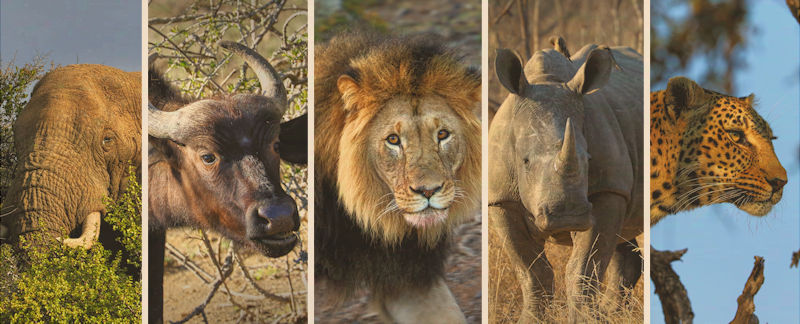 African Elephant
Scientifically famous Loxodonta Africana, the African elephants are the enormous largest land mammal animals in the world. Elephants are found both in savanna and forests. These unique mammals also feature as one of the reasons why most visitors flock into Uganda safari destinations.
African Cape Buffalo
Cape buffalos have a reputation for being bad tempted, aggressive and dangerous. Buffalos can be unpredictable and wild. However, they usually quite tame when in a herd. Not with standing a tendency to stampede in mass when startled.
African Lions
Described as the king of the jungle, Lions are short, posses tawny coat. They are dangerous and mainly thrive in savanna grassland where tall grasses, shrubs and bushes can offer camouflage while hunting. Lions are fierce and most sociable of African cats. They live in prides and the lionesses will do all the hunting.
African Leopards
They belong to the cat family. They feature tawny fur, dark rosette like black fur. They are nocturnal and secretive making them hard to hunt in the wild. They are ever fierce and never scared. Besides hunting, leopards love to stay near waters and they are strong swimmers.
The Black Rhinoceros
For the compete big five, the Rhinoceros could not miss. It's one of the hardest big five to spot. These great herbivores have a wide mouth and epidermis skin with a thick layer of 1.5cm deep. It has a gestation period of 16 months. Sighting Uganda's big-five while on game drives should be a must for you. Big five viewing safaris can be combined with the rare mountain Gorilla safaris, chimps, birding adventure like white rafting safaris.