Tree Climbing Lions-Ishasha Sector Uganda
Tree Climbing Lions-Ishasha Sector Uganda : This is a common occasion in Ishasha Sector in Queen Elizabeth National Park where lions are mostly in trees. Many visitors to Tanzania's Lake Manyara and Kenya have come to think they are myth because it is very rare to catch sight of them, but if you are looking for proof of their existence; visit the Ishasha plains in Queen Elizabeth National Park. These magnificent kings of the jungle and their families are much easier to see here.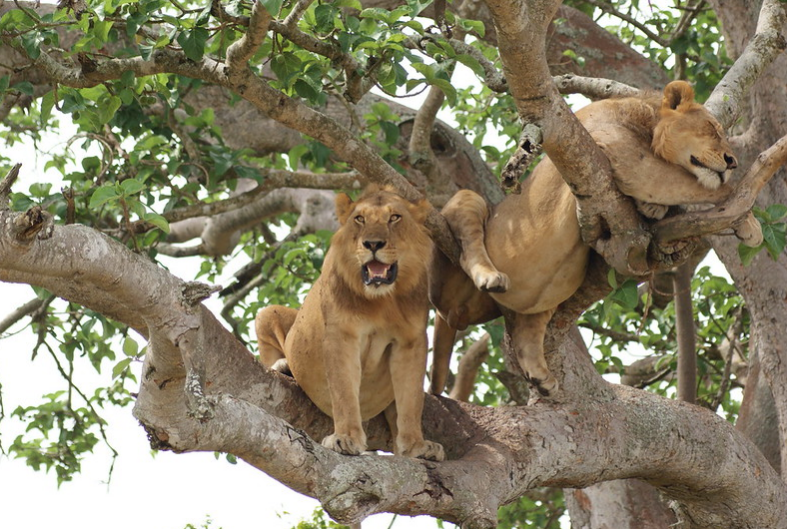 The tourists get lost of words and stay amazed when they come to visit Queen Elizabeth national park's mysterious behaved cats (tree climbing lions) that climb in the top of the trees and hug up there with a lot of ease. A tourist can get to spot over 50 lions sleeping in the trees. Surprisingly these trees climbing lions hide in the sycamore fig tree and the tourists may not get a chance to spot even one during their game drive. The only way of getting this avoided, is by having a Tour guide from the Uganda Wildlife Authority. These are the best people to discover the hiding lions rather than using a driver who only has plain information about the place. It is an amazing sight and if this is on your travel list then you ought to inform your tour consultant so that Ishasha sector of the Queen Elizabeth National Park is included on your Uganda safari itinerary.
Why lions climb trees
They lazily hung up in the tree branches because they are wide enough providing quiet a comfortable wide place for resting after a day's hunt in order to digest their food well.

Fleeing from the insect bites; during the rainy season the grounds get infested with the breeding tsetse flies that bite the wild inhabitants, lions inclusive. This makes the lions run to the tree branches for protection from many insects on the grounds.

Escaping the heat on the ground; when the seasons change, the savannah tends to have quite high temperatures. This heat makes the ground extremely hot for the cats.

Cool view of the glorious food for these big cats; It's clear that a view is wide when on a high level than what you want to see. The lions climb up in the tree branches to have a glimpse of their prey, the antelopes, when feeding in the pastures.
Despite of the fact that these lions are endangered, they still remain a firm attraction for the tourists to this jungle of Africa. They also remain "the king of the jungle", its their historical pride and no one can change that.
Apart from the unique tree climbing lions, Queen Elizabeth National Park contains other Africa's big cats such as leopards and also other animals like buffalos, hyenas, antelopes, elephants and many more.