Boat cruising in Uganda
Boat cruising in Uganda: The pearl of Africa is undeniably the best place for boat cruising and launch trips. Book a boat trip to the source of the Nile, Ngamba Island, Kazinga channel, Bottom of Murchison Falls, Lake Victoria and on a Lake Bunyonyi for a magical experience. The Pearl of Africa is naturally blessed with freshwater lakes and rivers that make your boat cruising dream come true. It's a magical feeling sailing on top of the calm fresh waters with spectacular views of the surroundings. Also, known as launch trips, boat cruising is normally done as a relief after tiring experiences such as gorilla trekking, mountain climbing and chimpanzee tours to give travelers a fresh feeling before they return to their homes of origin. To make your Uganda safari complete, we combine our boat trips with other wildlife experiences such as game viewing, Gorilla trekking, cultural visits, mountain climbing and bird watching among others.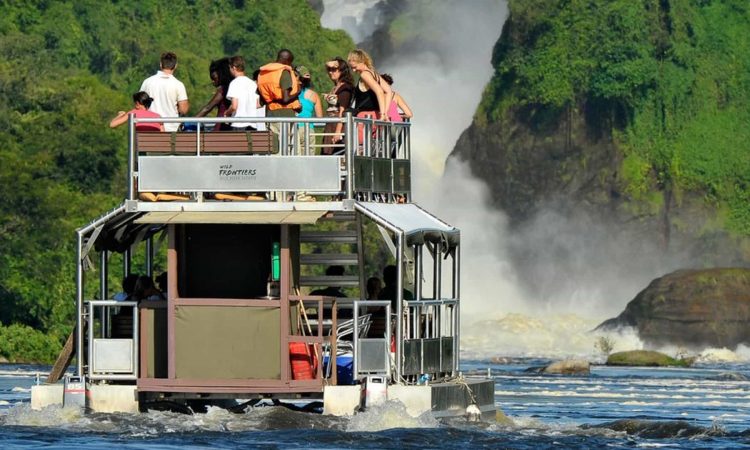 The top spots to do boat cruising in Uganda are:
Kazinga channel
Situated in the heart of Queen Elizabeth National Park, Kazinga channel offers you a memorable boat cruising experience. This 8meters long and 40 meters deep channel connects Lake Edward and George in the western rift valley. A boat cruise at Kazinga channel starts at Lake George and ends at Lake Edward, making it so interesting. Enjoy the fresh feeling of the water plus great views of numerous wildlife such as hippos, crocodiles, elephants, buffalos, monitor lizards and among others. Expect to see a variety of bird species such as African Kingfisher, Squacco Heron, Long-tailed cormorants, Wattled plovers, Yellow-backed weavers, fish eagle, Knob-billed ducks, African Jacana, white-winged terns, Papyrus Gonolek, Squacco heron, Malachite, Thin-tailed nightjars, Black bee-eater and Black ramped buttonquail among others.
Lake Victoria
The largest freshwater body in Africa offers you the best luxury boat cruise trips in Uganda. A boat ride to any of the Island on Lake Victoria mainly Ssese Island for the honeymoon, Ngamba Island for chimpanzees and Kalangala Island among others is worth doing. Enjoy sailing on the calm waters of Lake Victoria.
Source of the Nile
A boat to the source of the Nile is an exceptional feeling that lasts for a lifetime. Posing your boat at the point where river Nile starts flowing is a magical experience which thousands of travelers have over time come again to experience. Expect to see some birds and animals on the river shores which make your experience much amazing.
Murchison Falls
Cruise to the bottom of the mighty Murchison falls, Uganda's largest and oldest National Park. See how water strongly squeezes through that narrow gorge before pouring down into the devils caldron forming a rainbow. Also look out for crocodiles, hippos, buffalos and waterbucks which are spotted on the riverbanks. For birders, expect to see the African Darter, Goliath Heron, Black-headed plover, Osprey, White-faced whistling duck, yellow-billed stork, pied kingfisher, Moosebird, Black-billed barbet, Abyssinia ground hornbill and White-rumped seedeater among others. Like at Kazinga channel, boat trip at Murchison falls are done two times at 9:00am and 2:00pmdaily lasting for three hours.
Lake Bunyonyi
It is found in the extreme end of southwestern Uganda and it is exceptional in its own kind. Lake Bunyonyi is the second deepest Lake in Africa after Lake Tanganyika and comprises of 29 Islands. A boat ride to any of the Islands on Lake Bunyonyi is a life changing experience. Cruise to the Punishment Island where pregnant unmarried Bakiga girls would be left to die in isolation and to the Akacuraniko Island believed to have turned upside down. Interestingly, each Island on Lake Bunyonyi has a different story that is worth listening. More still, the swampy shores of Lake Bunyonyi house many little birds like the Herons, African Harrier Hawk, Slender-billed ball fetch, cardinal woodpeckers among others.
Tips for boat cruising in Uganda
Travelers intending to do boat cruise in Uganda are reminded to be extra careful and responsible. While on a boat cruise;
Wear life jackets and keep them on fit to prevent drowning in case of any tragedy.

Avoid hanging over the side railing of the boat.

Properly check the boat before the start of the cruise to make sure it's in a safe state.

Ensure the boat is balanced both sides, in front and back.